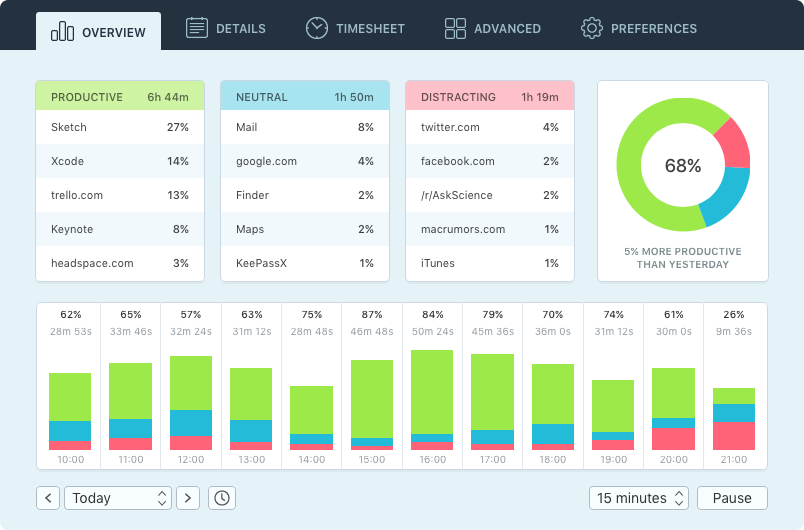 Overview
Qbserve ("cube-serve") keeps track of what you do on your Mac and provides constant feedback on your productivity. This way you can stay focused and develop better habits.
It automatically tracks work hours and can generate invoices based on the collected data. No need to remember to start and stop time tracking.
Website: https://qotoqot.com/qbserve/
News: @QotoQot and @Qbserve
Key features
detects productivity of sites and apps automatically
shows live feedback on user's performance in the menu bar
sends notifications on reaching goals or spending too much time on distractions
tracks projects automatically, no need to manually start and stop tasks
generates invoices for projects
uses unique macOS capabilities

tracks projects based on opened web pages and documents
tracks Slack teams, Skype chats, and YouTube videos separately
can detect and ignore private tabs in browsers

supports most of popular Mac apps for automatic project tracking
shows collected data in different ways – summaries, journals, charts
exports data in CSV and JSON
stores tracked data locally
costs less than competitors (no subscription)
Pricing
$40 one-time purchase (student discount available).
The license is good for up to 5 Macs for individual and family use; one license per Mac for business use.
Available only via direct purchase because of the Mac App Store sandboxing restrictions.
Competitors
Qbserve combines both productivity and work time tracking while the competitors usually do only one thing. It works best for freelancers who work on a single Mac and don't need to sync data across devices or team management features. Also the local data storage is important for privacy-minded persons who don't like to send sensitive computer usage history somewhere.
| Qbserve | RescueTime | Toggl, Timecamp, Timely, Harvest | Timing 2 |
| --- | --- | --- | --- |
| Automatic project tracking | No project tracking | Manual start/stop project tracking | Automatic project tracking |
| Real-time productivity feedback in the menu bar and dock icons | Delayed productivity reports on their site | No productivity tracking | Real-time productivity feedback inside the app |
| Generates invoices | No invoicing | Generate invoices or use integrations | No invoicing |
| One-time $40 license fee | Subscription: $72 per year, limited free | Subscription: from $54 to $150 per year, limited free | Upgrades: from $29 to $79 per year |
| Stores data locally, on Mac | Sends data to their servers | Send data to their servers | Stores data locally, on Mac |
| No features for teams | No features for teams | Team management | No features for teams |
| No iOS app | iOS app but no tracking | Have iOS apps | No iOS app |
Mentions
Contact
Ivan Mir
@ivmirx

+56 9 5129 7016
Company
QotoQot ("kōtōkót") is a small team based in Valdivia, Chile who develop tools for productivity, time management, and learning. Our goal is creating straightforward and helpful software.
The company was founded by Ivan and Irina Mir in 2014 when we decided to leave game development after 5 years. All of our projects are bootstrapped, funded from freelancing and stock illustrations.
After almost 8 years of working from home, we firmly believe in remote work. Originally from Eastern Europe, we decided to settle down in a region near Patagonia that is far from all big tech hubs. But in our opinion, location should not be a barrier to developing tech products to help people live better lives.
Media