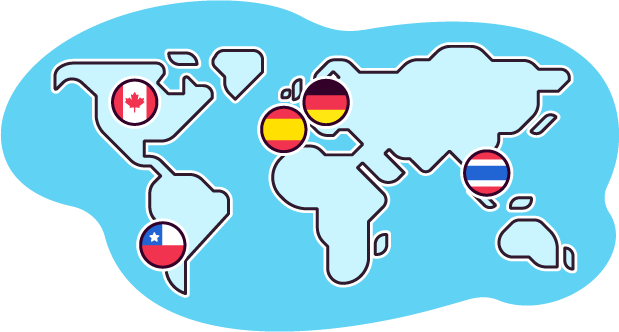 Best countries to relocate to for freelancers and solo founders
Disclaimer: This article hasn't been updated in a while and I doubt I'll have time to do it. During the last years, various Digital Nomad visas appeared in Europe (including Spain and Portugal), while the Chilean immigration law changed in 2022, making it harder to move as an independent worker without finding a local client. Still, some advice may hold well, so proceed with caution.
Working from home is comfortable and really hard to give up once you get used to it. But for the people who would like to emigrate, it might turn out to be an obstacle: since making money online is still a novelty for governments, most countries will not issue you a visa or residency permit if you lack a local employer.
In the last few years, I studied most of the options available to self-employed persons before settling down in Chile. My goal was not a digital nomad lifestyle but a long-term immigration with the possibility of obtaining a permanent residency or even citizenship while still working remotely.
My criteria were:
Please keep in mind that none of this is legal advice, and it's better to double-check everything with an immigration lawyer from the country you're going to move to.

Canada
Canada is known as the most immigrant-friendly country in the world. Its self-employed program was closed due to overload, but a new door has recently opened: the Express Entry immigration system changed the scoring rules, and having a job offer from a Canadian company is no longer important to getting in. According to statistics, 90% of "invitations to apply" now go to immigrants without a job offer.
Canada is divided into provinces, and there are separate federal and regional governments that have different immigration programs. Self-employed immigration is available mostly via the Federal skilled worker program. The Canadian immigration system was polished over the decades, so it's straightforward, and you can do everything online by yourself.
The immigration process is centered around a scoring system; to immigrate, you need to get enough points. The points are based on the following:
Education and work experience: Can be unrelated to each other, but both need to be in the job groups 0, A or B of the National Occupational Classification.
Language: The sum of scores for speaking, listening, reading and writing in English or French (knowing both gives additional points).
Age: The best time to immigrate is your 20s because you start losing points after 30.
Additional: Factors like your partner speaking good English and having a degree or you having previous work or study experience in Canada.
You need to score at least 67 out of 100 points in the Federal skill worker program to be allowed to apply, but the score in the Comprehensive Ranking System (CRS) is more important. The maximum CRS score is 1200, but according to the 2017 year draws, you need around 450 to pass a draw. Draws are made every two weeks, and the minimal score varies each time, so it's also possible to stay unlucky for a while but get accepted eventually because your application has been participating for a year. You can preview your CRS score at the official calculator.
Beyond the proofs of education, experience and language skills, the requirements include documents like police certificates, medical examination and proof of funds (at least CA$12,475 for one person). If you pass and get an "invitation to apply," you can fly to Canada and automatically become a permanent resident on arrival. Yes, there is no "temporary residency" period for the Express Entry program — you become a full resident instantly and can apply for citizenship after three years in the country.
The main downsides of Canada are high life costs (especially housing) and the extreme climate in most regions. Also, all applicants are required to pass health exams — you can't immigrate if you have a chronic illness that will be considered expensive for the Canadian public health care system.
Summary
Master's degree required
Professional experience required
Language test before applying
Health check (some chronic conditions will be denied)
Instant permanent residency
Citizenship in 3 years

Germany
It's a good sign when one of the strongest economies in the world acknowledges the value of freelance and small-business immigration. Berlin introduced a self-employed visa for non-EU residents that not only mentions freelancers but also doesn't require ridiculous amounts of startup capital to bring your business into the country. While there are lots of requirements, it's totally obtainable, and you can find some success stories online.
First, you will need to get a proof that you're going to reside in Berlin by signing a rent contract and registering at this address in the government. The next step is getting local health insurance and a local bank account — you will need to transfer enough funds to show that you can live without working for at least few months. Freelancers also need to find a couple of German clients (companies or individuals) and get nonbinding letters of intent that they would like to hire you as a freelancer for a specific period.
After completing the preparations, you have to provide a whole lot of evidence to convince the German government that you are not a fraud and have a plan to earn money: diploma, detailed CV, portfolio, cover letter, references from previous clients, revenue forecast, capital requirement and business plans for entrepreneurs. To prolong this visa, you'll need to demonstrate that your freelancing career or business is running successfully.
Beyond all the bureaucracy, the main downside are the requirements for permanent residency — five years in the country plus a German language exam (keep in mind that working from home significantly slows down language acquisition). You can apply for citizenship after eight years of living in Germany, but dual citizenship is not allowed, and you will have to renounce yours. Since this visa is a Berlin-only project, it means that you must stay in the city until permanent residency, and it may be hard to find a place to rent, especially for a foreigner without a track record in Germany.
Also, keep in mind that German tax rates are high even for self-employed (especially for singles without kids), and costs of living in Berlin aren't low either.
Summary
Any degree required
Professional experience required
Language tests for permanent residency and citizenship
Permanent residency in 5 years
Citizenship in 8 years
Alternative: Netherlands
While the Dutch government has announced a similar visa for self-employed persons, the requirements are more demanding, and I've yet to see any report on successfully obtaining it by a non-EU resident. But Americans can move to Netherlands by using the Dutch American Friendship Treaty which only requires €4,500 for an initial investment in your business.

Chile
Chile often gets mistakenly associated with its problematic Latin American neighbors, but it is a developed, safe and stable country. I initially settled here because of the ease of self-employed immigration, but I stayed for the incredibly friendly people (see my guide to moving to Chile for more details) — not to mention the diverse and enchanting Chilean nature.
Chile offers multiple ways of immigration for persons who earn money outside of the country. The easiest one is the rentier visa ("para jubilados o rentistas", TE6), which requires some sort of passive income like renting out a property or receiving dividends. It could be small, but you can add your non-passive freelance or business income on top to qualify (about $1,000 per month per person is recommended). With this visa, you are fully eligible for the three-year tax holiday on all foreign income.
The other way is the professional visa ("para profesionales y técnicos de nivel superior", TE8), where you need to present a higher-education diploma and a local job offer (not an actual contract, so it's easy to obtain without an interview). After getting this visa, you can ignore the job offer and stay self-employed, but there is a bureaucracy quirk: despite the tax holiday on foreign income, you'll have to pay taxes for at least nine months to qualify for permanent residency.
It's also possible to apply for an entrepreneur visa ("para inversionistas y comerciantes", TE7), but this is generally not recommended because of the complex bureaucracy involved and the same tax issue as with the professional visa. Finally, there's an adventurous path — the Startup Chile program, where you can qualify for $45,000 of equity-free funding if your project is selected.
You will need just one year on any of these visas to qualify for permanent residency, and you can apply for citizenship five years after your first long-stay visa date. Currently, there's no language or history exam for becoming a citizen (though the immigration laws are being tuned right now).
The main difficulty of moving to Chile are the restrictive and expensive Chilean banks — you will not be able to open a "serious" account until you have permanent residency and proof of sufficient income. The other problem is centralization: Santiago is the most developed city, but it's expensive and overpopulated, while most other cities are rather small (less than 500,000) and may seem boring for some people. Although it may seem that the country is too far away from everything, the flight time from Chile to Europe is similar to the flight time from the U.S. West Coast to Europe — it's long but nowhere as long as from Australia or New Zealand.
Summary
Options with or without degree requirement
No language tests, even for citizenship
Three-year tax holiday on foreign income
Permanent residency in one year
Citizenship in 5 years
Alternative: Uruguay
Uruguay is on par with Chile as one of the most prosperous Latin American nations, but its crime rates are considerably worse, and there are even fewer choices of where to live due to the size of the country. Similar rentier and entrepreneur visas are available, but at least $1,500 per person per month is recommended because the life costs are higher than in Chile.

Spain
There are many obvious upsides to Spain: great beaches, a variety of climates and cultures, relatively low life costs and multiple big cities and dozens of small ones to choose from. Sure, there are economic problems, but they don't seriously affect people who work remotely. So Spain may be a good European alternative to Germany … but only if you are doing well financially.
The Spanish government offers a "Residencia no lucrativa" visa, which is a bit similar to the Latin American rentier visas. While it's not as bad as other money-based visas in Europe, it's still very demanding financially — you will need to show that you have 400% of Spanish minimal salary for 12 months (in practice, it should be a bit higher). If you are not single, 100% more is required for each additional family member. In 2018, the minimal monthly salary in Spain is about €538 — so be prepared to save around €30,000 before applying for this visa. Of course, the immigration authorities will ask for the source of the funds, which may be tricky to provide for many kinds of online income.
Things get more complicated in the second year because the visa is extended for two years, so you will need to have at least €60,000 in your bank account. Luckily, you can also apply for permanent residency after five years, so this means only two extensions where you'll need to demonstrate this amount of money. In both cases, your funds are not frozen — you can withdraw them after obtaining this visa. Spain requires at least 10 years of residence in total before becoming eligible for citizenship.
Summary
No degree required
Significant amount of savings required
Language test for citizenship
Permanent residency in 5 years
Citizenship in 10 years

Thailand
One of the most well-known options — and the best choice if you'd like to live in a tropical country. You have completely different lifestyles to choose from: Bangkok is a huge modern city, and Chiang Mai is a remote town in the north that has become the capital of digital nomads. You could also go for the picturesque and relaxed islands — Koh Samui or Phuket. If you come from a Western culture, there will be lots of amazing things to see and learn.
Previously, many expats lived in Thailand on tourist visas and crossed the border regularly to reset their stay. Thai immigration officials have stated that they are fine with "tourists" working online, but infinitely prolonging this status is not an option, and you can be denied from entry eventually. The legally unambiguous method is to get a work visa with the help of a popular proxy company that will hire you in Thailand and then will bill your clients and pay all the Thai taxes for you by taking 30% from your invoiced amounts (the minimum is $2,500 monthly). The work visa requires a higher-education diploma and some employment history. You will be able to apply for permanent residency in three years, but there's a yearly quota: only 100 citizens of each country can get a permanent residence permit.
The biggest downside in Thailand is integration — not only is the language complex, but also Thai society is hardly willing to accept foreigners as their own. The other significant problems are corruption and political instability. For this reason, it may be a poor long-term solution for many people. Still, it's so easy to stay that you can try Thailand as your first country for living abroad.
Summary
Any degree required
Language test for citizenship
Permanent residency in 3 years (quota-based)
Citizenship in 5 years
That's it
Unfortunately, other countries are still missing out on the opportunity to attract individuals who earn good money online but are not millionaires — even the poorer Eastern European nations require hundreds of thousands of dollars of initial investment to start a company there. You may find that Finland, Estonia, Latvia, the Czech Republic, Slovakia, Slovenia or Montenegro do not officially demand lots of funds or hiring locals, but in practice, they're not fond of actually issuing residencies to owners of small online businesses. Hopefully this will change in the next decade with growing numbers of remote workers.
Hope all of this helps. Follow me on Twitter where I share tips and stories about indie software business.